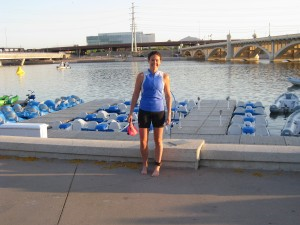 Those of you that know me well understand my love for running. I've been doing it for 18+ years, and have always found it to be my safety, my comfort, and my de-stressor. A few years ago I found that racing was a little less exciting than it used to be, and decided to spread my wings, step out of my comfort zone, and do something radical. I signed up for a triathlon several years ago.
Swimming is one of those things most learned to do at a young age, and for me it brings back memories of an ice-cold pool in South Dakota. I have always been able to swim because of the years of lessons, however never considered myself a swimmer. This would all have to change if I wanted to fulfill my new goal of becoming a triathlete, and I knew it would not be an easy task. I was surprised to find swimming a calming, almost a meditative way to start my day.
Did I train enough in the pool? Maybe. Should I have done some open water training? Most definitely.
What I did: I purchased a road bike, and found biking to be mildly scary due to the crazy Arizona drivers. Becoming involved with the local biking community has been an eye-opening experience, as I have changed my own driving habits due to the emotions I have experienced on my bike. Arizona can be a wonderful place for bikers as long as we all remain aware of the presence of bikes on the roadways!
I also attended a women's only triathlon held in Chandler, with the swim taking place in a pool. Tri for the Cure seemed to be a good starting point for me, and I had a wonderful experience! Meeting so many women competing for the first time was refreshing, and built confidence for us all before we began. I began questioning why I waited so long to try this….it was actually fun! Little did I know how different swimming in open water is, and how much more challenging it can be for triathletes.
Jump ahead a few months. Red Rock Co. hosted a sprint/Olympic race, and I was fairly confident even though I had yet to swim in open water. It can't be so bad, right? Wrong. Treading water waiting for the horn to sound is a very nerve wracking experience, and I spent the majority of my swim trying not drown. The remainder of the race flew by without a problem, but I left feeling quite humbled by the amazing athletes around me. The sport of triathlon is certainly filled with incredible people, and I'm proud to count myself among them.
.
Questions about how to take care of your body for a Triathlon?
Call our Tempe chiropractic office for a consultation: 480-440-4511
Dr. Bobbie Bennett works with patients of all ages and walks of life. She enjoys helping her patients find freedom from pain and gain increased mobility so they can live their life without limitations.