Meet Your Tempe Chiropractors!
Dr. Bobbie Bennett

Bobbie Bennett, D.C., received her Doctorate in Chiropractic and Bachelor of Science in Human Anatomy from Northwestern Health Sciences University, in Bloomington, MN. She is nationally board certified in chiropractic and physiotherapy, and is also a Fascial Stretch Specialist and certified personal trainer. Dr. B worked as an associate chiropractor in Newton, MA for 2 years before relocating to the Phoenix region in 2007 where she quickly built a reputation as a top Tempe chiropractor.
Dr. Bennett has taken additional courses in pre-and postnatal care, sports injury, fascial stretch therapy, medical acupuncture, and rehabilitation, and enjoys seeing patients of all ages. She works with athletes of all kinds, but especially enjoys working with runners.
Dr. B also strives to educate her patients on the importance of physical fitness and nutrition. Active care is a large part of treatment plans, and patients are often given an at home regime to assist recovery and aid in prevention of future episodes.
Outside of work, she enjoys running, biking, hiking, and anything active. She takes part in community races, enjoys volunteering for events such as the Susan G. Komen 3-Day walk, and loves to cook. A combination of chiropractic care, massage therapy, and stretch therapy keep her healthy and competing!
Dr. Bennett's Advanced Certifications
Dr. Molly Bond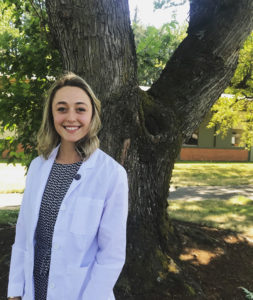 Dr. Molly Bond was born and raised in a small town in eastern Oregon. After receiving her Bachelor's degree in Kinesiology and Business from Oregon State University (Go Beavs!), she went on to complete her Doctorate of Chiropractic from the University of Western States in Portland, Oregon.
After being a native Oregonian for her whole life, Dr. Bond was drawn to Phoenix for the abundance of outdoor activities. Outside of the office you'll find her running with her dog to train for Spartan races, hiking the surrounding trails, and doing all she can to be active in the sun – movement is medicine after all.
She thrives on being patient centered and making your visit about meeting your individual goals and exceeding your individual expectations. She achieves this by providing exceptional attention to detail throughout the entire time spent with you.
Dr. Bond has dedicated additional time to educating herself through the Motion Palpation Institute (MPI) and Dynamic Neuromuscular Stabilization (DNS). She loves educating her patients on the biomechanics of the body and empowering her patients to move and feel better.
A visit with Dr. Bond will consist of a thorough history and examination followed by a combination of chiropractic adjustments of the spine and extremities, soft tissue therapies, and rehabilitation exercises. She looks forward to meeting you and working together to achieve your goals!
Welcome to BodyWise Chiropractic…
Your Tempe Chiropractor